It's been a while since I've posted a health update on here, and a lot has happened lately so it feels like the right time to update you all on both my cancer and Crohn's. There have been a handful of hospital visits, tests, etc. because of both problems. Therefore, this post is on the lengthy side - get comfy.
LET'S START WITH CROHN'S
Oh Crohn's. You stupid evil disease. I don't think people realize how stressful this disease is. It just takes so much out of you, both physically and emotionally. This article does a great job explaining the struggles.
As you all know, I had an Ileostomy surgery back in August. At first it was great and I felt like I got a little bit of my life back. I hated (and still do) the bag more than anything, but it allowed me to go out and be social again. If you need a refresher, my first Ileostomy post is here. I really was feeling great at first, but things took a turn for the worse. My Crohn's sypmtoms just wouldn't calm down. Just because I had the surgery, doesn't mean my Crohn's is fixed. I still have active Crohn's, the Ileostomy essentially just gives the part of my colon where I have active disease a break. Without food passing through or any activity in the diseased part of my colon, it has time to heal. On top of cutting off activity to that area of my colon, I still take Crohn's medicine to put the disease itself into remission. Because my Crohn's is still active, I still have Crohn's symptoms and I can't have my Ileostomy reversed until my Crohn's is no longer so active. Needless to say I'm frustrated. I had this surgery to feel better, yet I still feel crummy pretty frequently - and have a bag hanging from my stomach which I don't exactly have positive feelings about. We've had some trouble finding a Crohn's medicine that works for me. I'm now on drug number 5 and feel very optimistic that this will be the one to solve the Crohn's problems (knock on wood). I'm adding in vitamins and supplements to help as well. I'm basically at the point where if you told me to stand on my head, sing the alphabet backwards while eating grasshoppers because it would cure my Crohn's, I would.
My Ileostomy is also causing problems now - mainly in terms of nutrition/absorption. My body isn't absorbing things the way it should. This includes both food and medicine. So I'm missing out on nutrients (hence the major weight loss), and not fully absorbing medicines, so I experience side effects and things I shouldn't be dealing with had my medicines been fully absorbed.
SO HOW'S THE CANCER THEN?
Well, there's some bad news on this subject as well. If you follow me on Snapchat (@mallorysauer), then you already know that I get weekly fluid infusions to stay hydrated. With an Ileostomy you have to drink twice as much water than normal, so these infusions help me stay hydrated. One day when I went in for my infusion, I told my nurse about some pain I was having. My back felt tight, it felt like my entire right side was severely bruised, and I was having trouble breathing. They sent me for an x-ray which showed a large amount of fluid built up around my right lung, completely compressing it, so I was only working with 1 and 1/4 lung capacity essentially.
This X-ray resulted in a hospital stay where they drained 2 liters of fluid. Where did this fluid come from/why was it there, you ask? Well new melanomas were forming or my current tumors were resisting treatment, so my body produced this fluid as a way to fight these 'foreign objects'. Quick backstory - this is something I dealt with when I was in the process of diagnosing my cancer. Before they determined it was in fact melanoma, I had this fluid building up constantly - to the point where they placed a catheter in my back so I could drain the fluid at home. Once I started my cancer meds, the fluid dried right up and hasn't returned until now. So what this means is that I have new tumors forming, or my existing tumors are beginning to outsmart my meds and resisting that treatment.
While I was in the hospital for the fluid situation, they also sent me for a brain MRI to make sure the cancer hasn't spread to my brain (melanoma likes to form a cozy little home in the brain apparently). The bad news is, they found 4 tumors in my brain. They are small (talking centimeters) and we caught them early, which is the good news. You can see my brain scans below, I have circled the tumors in pink.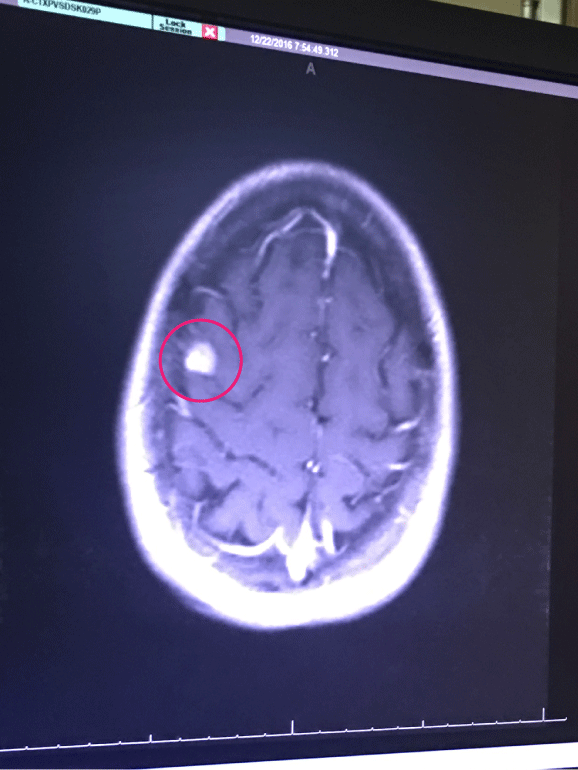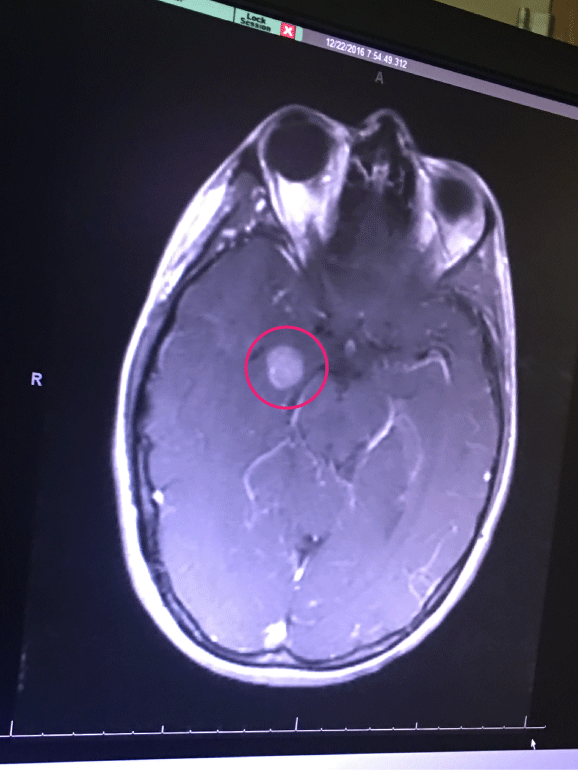 Knowing about these tumors explains a lot as to how I've been feeling lately. I was constantly nauseous, dizzy and light headed. Just random things that I wasn't used to feeling. Well it turns out, the tumors are to blame. Where they are located influenced some of the things I was experiencing..
WELL THAT'S TERRIFYING, HOW DO YOU TREAT THIS?
I'm adding a new med into the mix, called Keytruda. It's an immunotherapy drug and has great reviews and success rates. I'll continue my oral chemo, and then receive Keytruda infusions every three weeks. This will help treat both the lung and brain tumors. In addition to the Keytruda and oral chemo, I will undergo a procedure next week that zaps the tumors in my brain. It's called Gamma Knife - see how it works here. I'm a little nervous for that procedure - mainly because I'm extremely claustrophobic. Fingers and toes crossed they can give me something to knock me out! I literally feel queasy looking at the procedure images and thinking about being in that position. Oh well, could be worse right?
Another thing you may have noticed on my snapchat is that I was wearing an oxygen tube. I thought I'd try bringing them back in style! Kidding. Because my lung was so compressed with fluid, my oxygen level was dipping lower than it should be so I was put on oxygen to help me breathe and keep my levels where they need to be. Once the fluid stops producing (which will happen once all the meds kick in and do their job) I won't have to use the oxygen anymore.
I'M GETTING BORED, ARE YOU DONE YET?
Phew! That's everything. And I apologize for the lengthy post. Lot's of craziness and certainly lots of challenges, but I'm fighting through and keeping my head up. On the good days when i have energy I take advantage and get out and do whatever I can. On the bad days, I listen to my body and rest and give myself the rest I need. None of this is easy, but what doesn't kill you makes you stronger. I know I can get through it, especially when I'm surrounded by such great people supporting me.
I want to be clear, I don't share this because I'm looking for sympathy or special attention or for people to feel sorry for me. I've said that since day 1. Since I've put this story out there, and shown pictures of my ileostomy bag, and talk about these health issues in a way where I'm not ashamed - all of that has helped other people, and it also helps me deal with all this. I've had so many people reach out with kind words, and thanking me because now they have courage to embrace their situation. That was my whole goal and mission by sharing this story. I want to help others and encourage people in some way or another. I think I've accomplished that so far, and I just want to keep going. I'm not afraid to talk about any of this, or answer those weird questions, or even share pictures of my scans. I'll keep doing all of that if it helps someone get through something.
Please feel free to reach out to me with any questions, I'm happy to answer anything I can, or just be a pal to listen to you vent because I get it. I'm working on an 'end of the year' post, if you will, talking about the struggles I've faced, how I've overcome them and my plan for 2017 - stay tuned for that.
I love you all, thank you for reading and, as always, thank you for all your love and support.